Use for fine featheredging or last final sanding step before priming. Suggested backup pads 3M™ Stikit™ Low Profile Disc Pad (PN 05556) or 3M™ Stikit™ Disc Pad (PN 05576).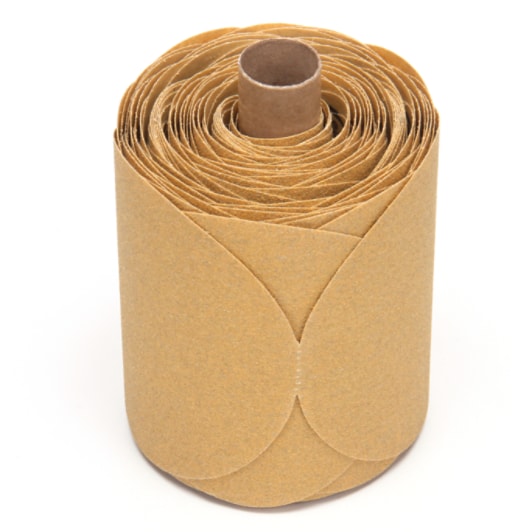 3M™ Gold Abrasives deliver uniform, consistent finishes
Sharp Abrasive for a Refined Finish
With its open coat construction and aluminum oxide mineral abrasive, our 3M™ Stikit™ Gold Disc Roll 216U provides a sharp cut — more aggressive than a comparable closed coat abrasive of the same grade. Light A-weight paper backing and a range of medium-coarse to fine grits make the disc ideal for featheredging and primer sanding. The Stikit™ Gold Disc Roll 216U is available in a range of sizes and works with all collision repair substrates including clear coat, fiberglass, paint, primer and plastic.
3M Gold tier abrasives were introduced over 25 years ago
Resists Dust and Debris
Open coat construction means the abrasive grains on our 3M™ Stikit™ Gold Disc Roll 216U are placed with space between them to help evacuate sanding dust and other debris and avoid clogging the cutting edge of the grains. The anti-loading coating also allows the disc to continue cutting even when sanding materials that would otherwise clog the disc. All of this adds up to increased productivity and reduced material consumption.
Our 7-hole pattern on select versions of 3M™ Stikit™ Gold Disc Roll 216U helps clear dust from the surface of the disc, making for longer disc life and a more consistent finish.
Better Science for Better Sanding from 3M
Our 3M™ Stikit™ Gold Disc Roll 216U is designed for long life — even for tough auto body sanding projects. From its aluminum oxide mineral abrasive to its anti-loading open coat construction to its Stikit™ attachment, this disc roll is another way that 3M applies science to make life easier for professionals in collision repair.
Learn more about 3M™ Gold Abrasives
(PDF, 1.08 Mb)