3M™ Double Coated Tape 9832 provides high initial adhesion and good holding power on a variety of substrates. The thin, polyester film carrier provides dimensional stability and improved handling during slitting and die cutting. It is commonly used on particle board, melamine, HPL, wood, plywood, plastics and foam.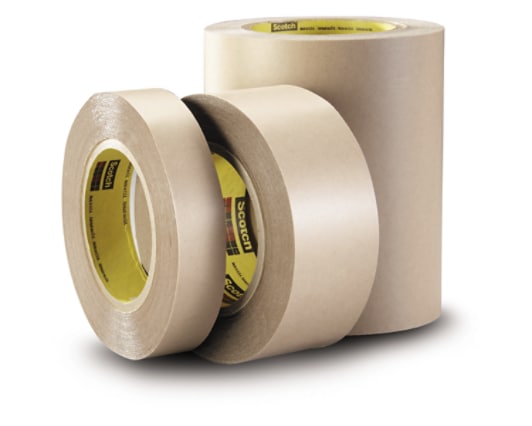 Used on particle board, melamine, HPL, wood, plywood, plastics and foam
Recommended Applications
General purpose foam lamination
Edge banding
Gasket attachment
Attaching melamine
Solvent Free Acrylic Adhesive Provides a Consistent, Permanent Bond
3M™ Adhesive 300MP
(PDF, 12 Kb) offers an excellent bond to various foams, plastics, and felt substrates, and has good shear strength at elevated temperatures. A thin, tough, polyester film (PET) carrier between the adhesive layers improves the handling and strength of our 3M™ Double Coated Tape 9832.
Double Sided Tapes Provide Solutions for Many Bonding Applications
In general, double sided (often referred to as double coated) adhesive tape is composed of a film or nonwoven tissue carrier coated on both sides with a pressure sensitive adhesive. These adhesive tapes can be applied by hand or with a wide web laminator.
Bringing Better Ideas to the Surface through Science and Innovation
In our 3M Industrial Adhesives and Tapes Division, we apply the science of adhesion to deliver innovative solutions that improve the design and manufacturing processes of companies around the world. In the end, our technologies help customers like you deliver competitive products to the market faster and more efficiently.
3M™ Adhesive Transfer Tape 9462P
(PDF, 20 Mb)