3M™ Cloth Belt 977F features 3M™ Ceramic Abrasive Grain and takes carbon and tool steel operations to the next level by providing you with significant gains in productivity over traditional non-ceramic belts. This versatile belt offers outstanding durability and cutting power and is an excellent choice for all grinding pressures.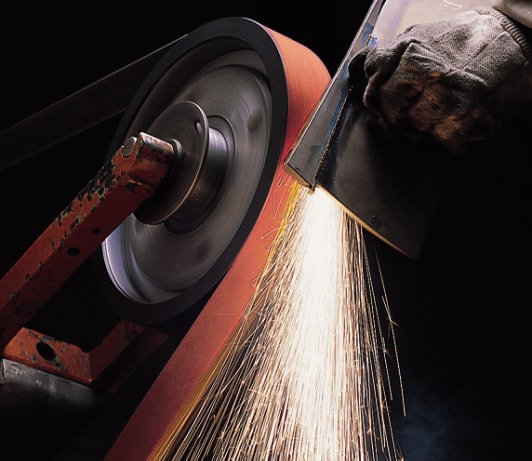 Recommended for both wet or dry grinding of stainless steel and high nickel alloy
3M™ Ceramic Grain
3M™ Ceramic Abrasive Grain is our proprietary ceramic mineral chemically engineered with a unique "stay sharp" crystalline structure, which continually reveals fresh cutting edges on the surface of the workpiece ensuring an exceptionally fast and sustained cut. Formed through a proprietary process to enhance toughness and hardness of the grain, 3M ceramic abrasives offer a longer service life than non-ceramic abrasives, and can stand up to high pressure production environments even on the toughest materials. This innovative abrasive grain is ideal for use with stainless steel and whitewood sanding. Our ceramic products enable operators to do more work in less time, for significant gains in both ergonomics and productivity.
Get the Belt You Need
Abrasive belts come in many different widths and lengths and are used on a variety of belt sanding tools for many different metalworking applications. At 3M we offer a broad selection of belts to fit most any industrial belt sander. Wider belts are designed for wide belt sanders for flat finishing—to smooth rough cut edges of metal sheets, or add a grain pattern to stainless steel sheets. Medium-width belts are generally used on a backstand for weld removal or on a feed-thru style flat finisher for imparting a finish on sheets or coils. Narrow belts can be used on backstands for grinding and finishing, or on file tools for finishing in right angle corners.