Scotch-Brite™ Roloc™ EXL Unitized Wheel is strong and effective for edge deburring and finishing. Our wheel performs well in a variety of metal working applications and machined parts where close tolerances are important.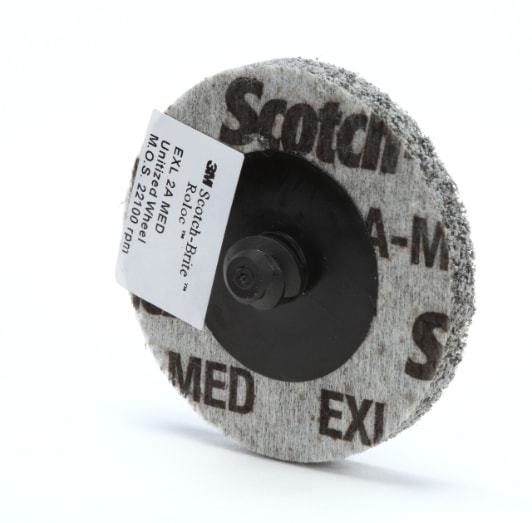 Change Discs Quickly and Easily
Our 3M™ Roloc™ quick change discs are smaller discs that are designed to be easily and quickly attach onto a
Roloc™ disc pad
(sold separately) so that you can conveniently change discs to accommodate different tasks or multi-step finishing processes. The Roloc system provides a secure attachment even for heavy-duty applications, and the variety of available 3M Roloc discs allows swapping from one application to the next in seconds.
Open Web Design for High Disc Performance
We developed
Scotch-Brite™ surface conditioning products
(PDF, 457 Kb) with abrasives incorporated into non-woven nylon or synthetic fibers. Combining abrasives with the fibers creates an abrasive system that delivers consistent results for the life of the product. The open-web material runs cool, reducing the risk of part discoloration and warping. The fibers are load resistant and keep the abrasive minerals cutting at high performance by limiting clogging of the fibers, which also extends the life of the disc.