Scotch® Printable Flatback Paper Tape 256 adheres to a variety of papers, films, fabrics and yarns. It is printable with standard flexographic inks common in the printing of packaging materials and is also easily marked with ballpoint pens, felt-tip pens, pencils and rubber stamps, making it ideal for labeling and coding applications.
Light to medium bundling applications
Banding items where color coding is required
Last lap end roll tabbing of paper, film, fabric and yarns
Banding, sealing, tabbing, defect flagging and holding applications where color for identification or coding is desired
General light duty holding applications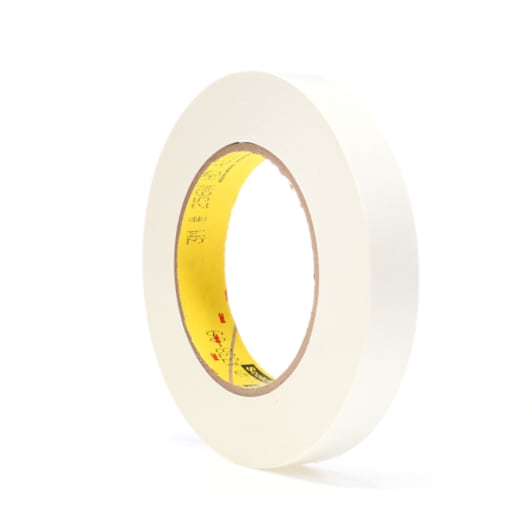 Provides good cushioning, puncture resistance and toughness
Easy Attachment, Easy Removal
Scotch® Printable Flatback Paper Tape 256 features a rubber adhesive that instantly adheres to a wide variety of surfaces. It detaches easily and provides clean removal from a variety of substrates allowing it to be used in painting applications. The flatback paper backing is printable and features good tensile strength. This tape is ideal for use in temperatures up to 200°F/93°C.

What is Masking Tape?
Masking tape was developed specifically to help protect surrounding surfaces from overspray, provide clean paint lines, and remove easily and cleanly when finished. The backing, typically crepe paper, sticks when applied to curved and irregular surfaces without lifting or curling. Various masking tapes are designed for different applications and should be removed within their specified time range. A very thin or poorly manufactured tape may splinter or shred when coming off the roll or being removed after use.

Our masking tapes adhere well, resist solvents or water from the paint, and are strong enough to hang plastic sheeting, yet remove cleanly without damaging the subsurface. These products hand tear for tool-free application. Some have sufficient tensile strength for light commercial and industrial applications, making them useful for bundling, labeling, sealing, temporary repairs, lane marking, splicing, and surface protection. The classic crepe paper masking tape is a light tan color, but Scotch® masking tapes come in a variety of other colors and formulations to meet general and specific applications. It should be noted that many crepe paper masking tapes perform best for indoor purposes and may be difficult to remove after exposure to sunlight. Many of these tapes also have a shelf life of 12 months, beyond which, peak performance cannot be assured. A roll of masking tape is a basic toolbox or supply room item in any construction, warehousing, military, marine, shipping, or retail industry.