The Scotch® Box Sealing Tape Dispenser H183 is manufactured with a pistol-grip design that allows the operator to apply, cut, and buff up to a 3 inch wide tape in an easy, one-hand motion. It dispenses up to a 109 yd/100m roll of box sealing tape with a maximum width of 3 inch/ 72mm. The hub mounted adjustable brake controls tension to help dispense the tape along the box seam and prevent waste.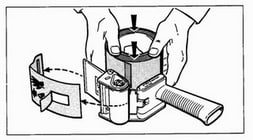 Quick and Comfortable Tape Gun
The H183, constructed of metal and durable plastic, is tough enough to operate in high-volume shipping, warehouse, and other work environments.
Don't Box Without One
A Scotch® Manual Box Sealing Tape Dispenser is an essential tool wherever products are processed, repackaged, or prepared for distribution. Consumer goods, electronics, food and beverage, general industrial, medical, MRO, paper, print, warehouses, industrial plants, e-commerce shipping operations, and retail distribution outlets are some of the places these useful tools are found. In addition to box sealing, they are also useful for combining, reinforcing, bundling, and other operations. A hand-held box sealer can be found in a weight and size for nearly every production requirement.