3M-Matic™ Case Sealer 700rks With 3M™ AccuGlide™ 3 Taping Head is specifically designed for productive sealing of large size regular slotted containers, such as those used in the appliance, electronics and bedding industries. This versatile machine seals up to 15 cases per minute while automatically adjusting to the height and width of each case.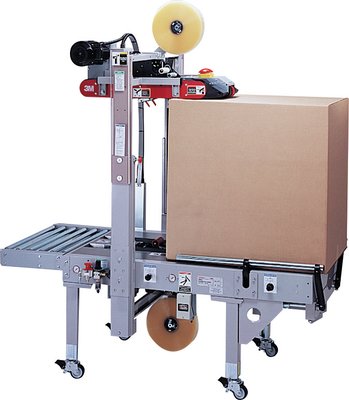 Automatically adapts to different case sizes, including extra-large cases
Recommended Applications
Seals top and bottom flaps on a broad range of regular slotted containers
Appliance, furniture, electronics and other industries with large size regular slotted containers
Four Belt Drives Ensure Consistent sealing
The top and bottom belt drives on our 3M-Matic™ Case Sealer 700rks securely move the carton through the sealer without skewing or tipping the box, which is particularly useful for tall cartons that aren't very long. While the 4 belt drives hold the carton squarely in place the tape is securely applied down the center seam and your operation keeps running smoothly.
Taping Heads Provide Low Impact Sealing
Designed to apply a "C" clip of 2-3" (48-72mm) Scotch® box sealing tape, the 3M™ AccuGlide™ 3 Taping Heads seal the top and bottom center seams at speeds of up to 15 cases per minute. With a flowing, curvilinear form for low impact and consistent application, 3M™ AccuGlide™ taping heads help protect the boxes while providing greater case throughput. Dual masts include twin lead screws for stop relocation and stronger taping head stability.
The 3M™ AccuGlide™ 3 Taping Process
A regular slotted container (RSC) is placed on the conveyor and pushed onto the drive belts, which convey the box into the taping head. The 3M™ AccuGlide™ 3 Taping Head applies Scotch® pressure sensitive film box sealing tape at the leading end of the box, continuing along the center seam to the trailing end. This is called a "C" clip application. The taping head cuts the tape as it is being applied. After the box is securely sealed, it exits the case sealer. Taping heads usually function in pairs to tape two seams of a case, either in an upper and lower configuration to tape top and bottom or mounted left and right to seal cases lying on their sides.
3M Tapes designed for use with the 3M-Matic™ Case Sealer 700rks
Scotch® Box Sealing Tape 373
Scotch® Box Sealing Tape 375
And any of our other Scotch® or Tartan™ Box Sealing Tapes.
Accessories Available for the 3M-Matic™ Case Sealer 700rks
Bringing Better Ideas to the Surface through Science and Innovation
In our 3M Industrial Adhesives and Tapes Division, we apply the science of adhesion to deliver innovative solutions that improve the design and manufacturing processes of companies around the world. In the end, our technologies help customers like you deliver competitive products to the market faster and more efficiently.
3M-Matic™ Case Sealer 700rks manual
(PDF, 6.60 Mb)