3M-Matic™ Case Sealer 200a with 3M™ AccuGlide™ 3 taping heads is designed to seal the top and bottom center seams of up to 40 uniform regular slotted containers per minute. A heavy duty gear motor provides power to the bottom belt drive, and adjustable side guides position and align your boxes for quick and easy throughput.
Seals top and bottom of box in a broad range of uniform carton sizes from 6" to 21.5" wide and 4.75" to 24.5" high and from 5 to 85 pounds

Manually Adjusts for Case Size Flexibility
The 3M-Matic™ Case Sealer 200a features a bottom belt drive and upper and lower 3M™ AccuGlide™ 3 taping heads as well as an alternative outboard mount for the lower tape roll. A height adjustment crank raises or lowers the taping head to adjust to box height and compression rollers position the top flaps of each box for precise sealing. Dual masts include twin lead screws for stop relocation and stronger taping head stability.

The gear motor provides power to the laced drive belts which run at 100 ft per minute. It can be quickly shut down using the centrally located emergency stop switch. After setup, 3M-Matic™ Case Sealer 200a continues to feed same size boxes at a rate of 40 boxes per minute. To change box configuration, simply readjust height and width to accommodate the new case size.

Taping Heads Achieve Consistent Low Impact Sealing
Designed to apply a "C" clip of 2" Scotch® box sealing tape, the 3M™ AccuGlide™ 3 Taping Heads seal the top and bottom center seams at speeds of up to 40 cases per minute. With a flowing, curvilinear form for low impact and consistent application, 3M™ AccuGlide™ tape heads help protect the boxes while providing greater case throughput.

The 3M™ AccuGlide™ 3 Taping Process
A regular slotted container is placed on the conveyor and pushed onto the drive belts, which convey the box into the taping head. The 3M™ AccuGlide™ 3 Taping Head applies Scotch® pressure sensitive film box sealing tape at the leading end of the box continuing along the center seam to the trailing end. This is called a "C" clip application. The taping head cuts the tape as it is being applied. After the box is securely sealed, it exits the case sealer. Taping heads usually function in pairs to tape two seams of a case. When they tape the top and bottom, taping heads are mounted in an upper and lower configuration. Taping heads can also be mounted for sealing a case lying on its side.

Bringing Better Ideas to the Surface through Science and Innovation
In our 3M Industrial Adhesives and Tapes Division, we apply the science of adhesion to deliver innovative solutions that improve the design and manufacturing processes of companies around the world. In the end, our technologies help customers like you deliver competitive products to the market faster and more efficiently.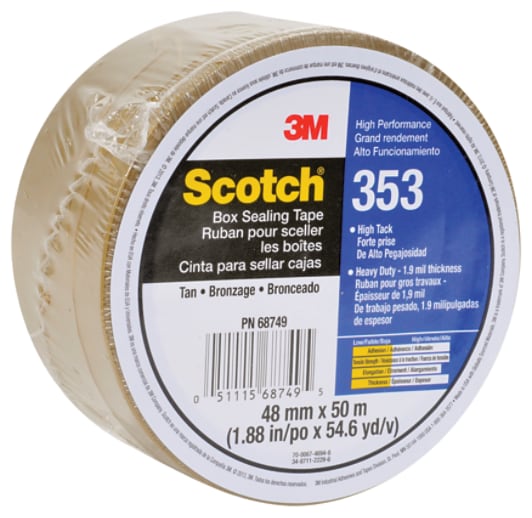 Scotch 353® (pictured) closes a wide variety of box and carton materials
3M Tapes designed for use with the 3M-Matic™ Case Sealer 200a
Scotch® Box Sealing Tape 353
Scotch® Box Sealing Tape 355
Scotch® Box Sealing Tape 371
Scotch® Box Sealing Tape 373
Scotch® Box Sealing Tape 375
Scotch® Box Sealing Tape 3071
Scotch® Box Sealing Tape 3072
Scotch® Box Sealing Tape 3073

And any of our other Scotch® or Tartan™ Box Sealing Tapes.

Accessories Available for the 3M-Matic™ Case Sealer 200a
3M™ Tape Application Monitor: Detects proper application of tape to a box
3M-Matic™ Casters: Locking/swivel design for easily moving the case sealer from one production area to another
3M-Matic™ Infeed/Exit Conveyor: Allows the cases to be more easily staged and fed into and out of the case sealer