3M™ Marine Finesse-it™ II Glaze brings out the shimmering beauty of that high gloss "wet look" finish on fiberglass and painted boats. It effectively removes minor scratches and light oxidation. Using this product is highly recommended after compounding to eliminate light scratches and swirl marks. Use it whenever it's time to rejuvenate the high gloss finish on a boat.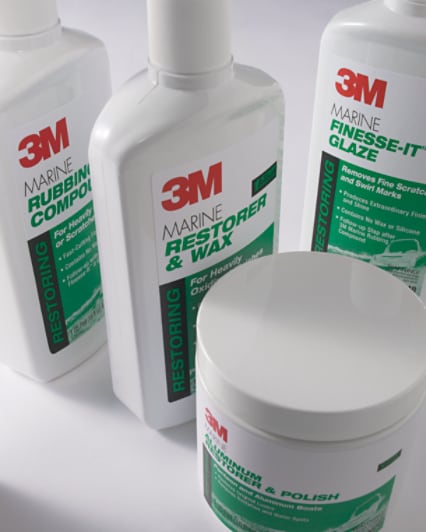 3M Marine has a full line of boat wax and maintenance products
Removes Everything from Fine Scratches to Light Oxidation
3M™ Marine Finesse-it™ II Glaze removes micro-fine scratches and swirl marks that occur while sanding and compounding. Using this product is a suggested follow-up step after using 3M™ Perfect-it™ Gelcoat Heavy Cutting Compound. Our wax-free, silicone-free formula creates a silky smooth finish that's free of all surface imperfections. This marine glaze will also removes light oxidation that dulls gelcoats.
Learn more about 3M™ Perfect-it™ Finishing Products
(PDF, 25.2 Mb)
Better Science for Better Boating from 3M
Our 3M™ Marine Finesse-it™ II Glaze a terrific example of how 3M applies science to the lives of boating enthusiasts for better, cleaner boating.
Find More 3M Marine and Boat Care Products
(PDF, 8.93 Mb)