Our 3M™ Heavy Drip-Chek™ Sealer is a heavy-based sealer specifically designed for filling exterior auto body definition seams including roof drip rails on older vehicles. Weather-resistant sealer is non-sagging – ideal for vertical seams – and adheres to metal, rubber, glass and painted surfaces. It can be applied up to 1/8" wide. Controlled shrinkage provides excellent visual definition seams.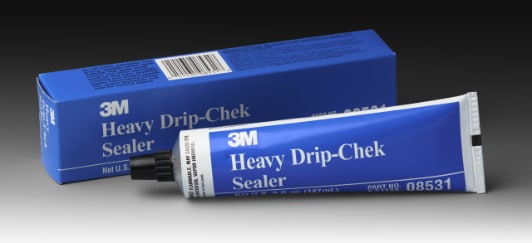 Applies right from the tube with no added time required for mixing
A Sealant Specifically for Visual Definition Seams
Designed specifically to seal exterior auto body definition seams such as roof drip rails and coach joints, our 3M™ Heavy Drip-Chek™ Sealer features a non-sagging heavy-based formula combined with controlled shrinkage after application for airtight, UV-resistant seams. The light gray sealer adheres well to any common automotive surface including metal, primer, painted metal, rubber, glass and more. It resists moisture, weather and ultraviolet rays as well as chemicals from oil or gasoline. This sealer is ideal for minimal dripping when applied, right from the tube, to vertical seams. Users can apply in widths up to 1/8" wide, and can easily tool the sealer to desired appearance. 3M™ Heavy Drip-Chek™ Sealer is designed to shrink slightly as it cures, creating an excellent visual definition seam. Cured sealer accepts any standard auto paint system.
The Science of Better Auto Sealants from 3M
3M has long been developing new ways to apply science to the lives of professionals in a range of industries including collision repair. 3M™ Heavy Drip-Chek™ Sealer is a great example — decades of knowledge in a product that specifically delivers better results in time and quality for specific jobs, and helps you get the most from your entire operation.
3M™ Heavy Drip-Chek™ Sealer
(PDF, 24 Kb)