Scotch® High Temperature Masking Tape 214 was designed specifically to be one of the few tapes that can be used on copper, silver and other metals. The heavy crepe paper backing is treated to provide excellent stain resistance, and the adhesive can be used on most treated metals due to the firmness of its adhesive. This tape has proven to not tarnish copper or brass, or stain metals.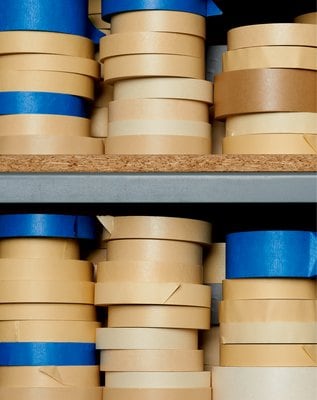 Ensure that your masking tape matches your performance needs
Top-Notch Performance on Treated Metals in High Heat
Scotch® High Temperature Masking Tape 214 has proven to perform very well in high heat applications, and on stain sensitive surfaces including copper, silver, other metals, and white paints. It generally removes cleanly following bake cycles up to 350°F/177°C for 30 minutes. The crepe paper backing tears easily, and offers moderate conformability, and lifts off cleanly. The synthetic rubber adhesive also bonds well to paper, metal, wood, and painted surfaces to resist lifting and curling. Under normal operating conditions, the tape features one-piece removal and is sliver resistant.
Recommended Applications
Applications involving sensitive metals and delicate surfaces
High temperature bake cycles
What is Masking Tape?
Masking tape was developed specifically to help protect surrounding surfaces from overspray, provide clean paint lines, and remove easily and cleanly when finished. Masking tapes from 3M adhere well, resist solvents or water from the paint, and are strong enough to hang plastic sheeting, yet remove cleanly without damaging the subsurface. The backing, typically crepe paper, can conform to curved and irregular surfaces. The tape hand tears for tool-free application.