3M™ Quick Fix Adhesive bonds rubber, plastic and metal almost instantly. This cyanoacrylate adhesive is the perfect answer when you need a quick repair with secure holding power. This versatile glue excels at bonding rubber weatherstripping, vinyl, metal, glass, side moldings, emblems, trim pieces and most plastics.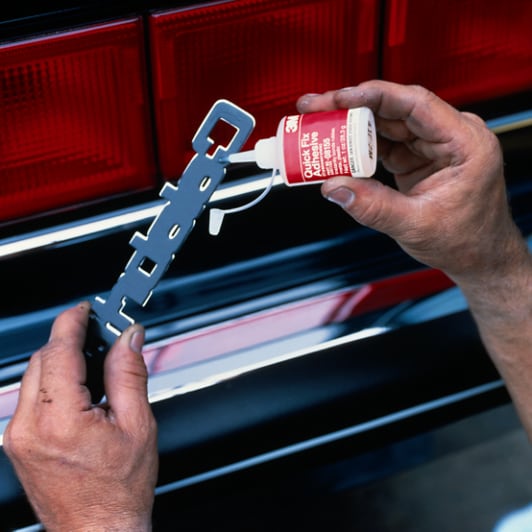 Ideal for bonding automotive emblems, loose moldings, rubber bumper guards and dashboard trim
Super Strong Adhesive
3M™ Quick Fix Adhesive works as a "super glue" type adhesive providing quick, strong bonding on a variety of surfaces, including impervious materials. Once the adhesive cures, the bond will exhibit resistance to temperature extremes, shock and most automotive and marine fluids. Because automobiles can experience significant temperature extremes from bitter cold to blistering hot, it's important to use an adhesive that's specially made to handle these rigors. Our adhesive also offers strength to withstand shocks that come from vehicles driving over rough roads. The adhesive also holds strong when exposed to common soap solutions and cleaning products used in cars and boats.
Almost Instant Repairs
The adhesive acts quickly with a working time of approximately 1 minute. This fast-curing rate means the item being bonded does not have to be held in place long before it can support itself, which saves the automotive repair technician time and effort. Our all-purpose adhesive offers good adhesion to EPDM rubber, plasticized vinyl, metal, glass and other impervious materials. With such versatility, our one glue works for most quick-fix gluing needs, reducing the need to stock multiple adhesive products.
Learn More about 3M Automotive Adhesives
(PDF, 68.63 Mb)