3M™ Stikit™ Abrasive Disc Back-up Pads perform across a large variety of auto body sanding jobs from low-speed polishing and grinding to shaping plastic filler. Durable foam construction and tapered edges maximize performance with 6- or 8-inch diameter 3M™ Stikit™ Abrasive Discs (sold separately). Pads work as part of the 3M™ Stikit™ system for fast disc changes, optimizing time and disc life.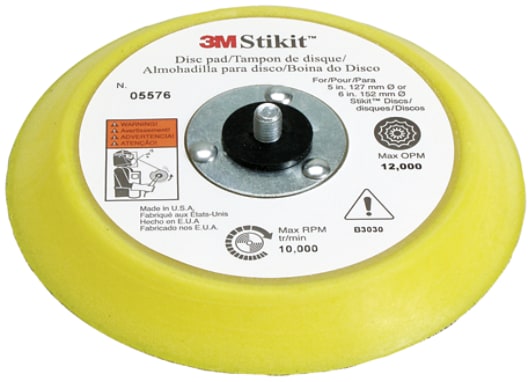 Available in 5-hole, 6-hole or center mount pads
The Right Back-up Pads for You
3M designed Stikit™ Abrasive Disc Back-up Pads to fit right into your auto body operation, immediately boosting performance across a range of sanding applications. Choose disc back-up pads built for RPMs from 1,500 to 10,000 — great for shaping plastic filler, flat sanding, low-speed polishing or grinding, and for use with medium to fine grade abrasives during paint stripping and sanding primer on conformable surfaces. Pads are available with edges tapered 15 degrees, ideal for aggressive sanding on flat surfaces, or 45 degrees for contours. Each medium or firm density disc pad is balanced, lightweight and resistant to shock. Durable foam construction provides flexible abrasive disc support for consistent contact with the work surface.
Fits a Variety of Sanders for a Variety of Jobs
Our 3M™ Stikit™ Abrasive Disc Back-up Pads with 15-degree tapers feature five- or six-hole mounting options to fit dual action orbital and random orbital sanders including National Detroit Model 900, Chicago Pneumatic Model 777 and Dynablade Model 57700. Disc back-up pads with 45-degree tapered edges feature center 5/8" center hole mounting with 5/16-24 exterior threads — just bolt them on and go.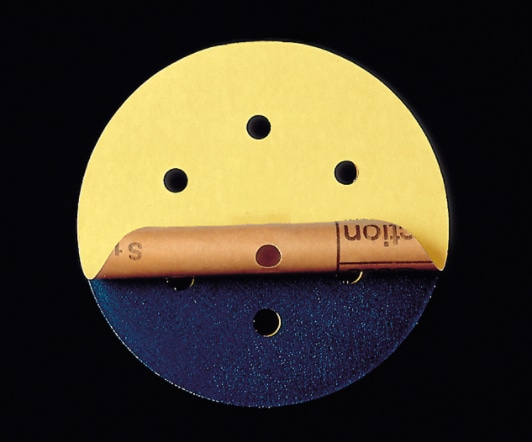 Ease of disc removal shown on another Stikit™ backup pad made by 3M
Stikit™ System Maximizes Shop Time
The 3M™ Stikit™ system was designed for fast, convenient disc changes between grades or applications. Stikit™ abrasive discs come ready to use with a pressure-sensitive adhesive coating on the backside so that attaching them to the disc pad is as simple as pressing on a sticker. Yet they remove cleanly without leaving any sticky residue behind. These 6- or 8-inch diameter 3M™ Stikit™ Abrasive Disc Back-up Pads work with 3M™ Stikit™ Abrasive Discs (sold separately) for consistent performance combined with maximized shop time as disc change-out is fast and easy.
Better Science for Better Sanding
Every feature built into the 3M™ Stikit™ Abrasive Disc Back-up Pads is designed to make auto body sanding more professional and more efficient. From the foam construction to the tapered edges, these disc back-up pads are built for smoother results on a variety of specific jobs that you see every day. And a variety of mounting options, combined with the Stikit™ disc change-out system, ensures that these disc pads will work with most power sanders, with 3M abrasive discs, and with your entire auto body operation.