Use for scuffing the blend area prior to painting. Suggested backup pad (part number 05551) and interface pad (part number 05777).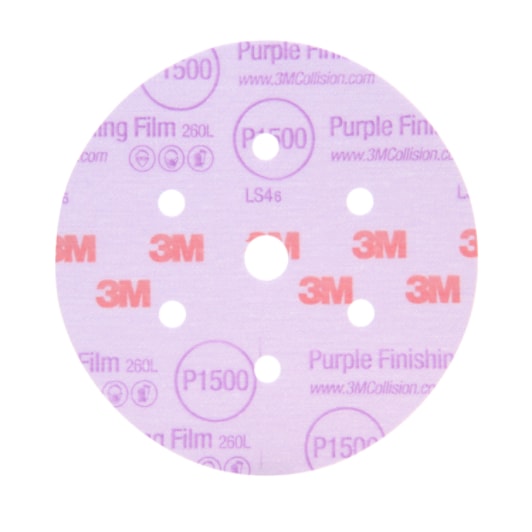 Several hole designs available for better dust extraction
For a Better Finish, Start Here
We built some of our latest discoveries into our 3M™ Hookit™ Purple Finishing Film Abrasive Disc 260L to help you achieve a consistent, professional and easy-to-polish finish with reduced pigtails during dry sanding. Our 3M™ Hookit™ Purple Finishing Film Abrasive Discs 260L are built onto a durable film backing that adds conformability, and our specially formulated coating preserves the life of the aluminum oxide mineral. The 260L discs are ideal for leveling orange peel, dust nibs or paint runs in all types of automotive paint, gel coat and clear coat. The 3M™ Hookit™ Purple Finishing Film Abrasive Discs are used for scuffing blend areas prior to painting and removing defects prior to paint finishing. The new discs are much faster and easier to use than scuffing pads. The discs produce fewer pigtails during any application and reduce deep scratches, comebacks and rework, saving time and money in collision repair operations.
Several versions of our 260L abrasive discs are designed with hole patterns to give dust a better escape route, moving more dust away from your finishing surface without loading the disc. This makes for a cleaner work environment, a cleaner work surface and longer disc life.
Better Science for Better Sanding from 3M
The 3M™ Hookit™ Purple Finishing Film Abrasive Disc 260L carries our Purple designation which indicates the latest 3M technology, greatest performance and highest quality available in an abrasive disc. From its high-performance aluminum oxide abrasive to its reformulated coating, this finishing film disc combines performance, durability and long-lasting efficiency for improved throughput. It's another example of what 3M does best: Science. Applied to Life.TM