Bondo® Home Solutions™ All Purpose Putty has been the choice of homeowners and professional contractors for years. It quickly and easily fills, patches, seals, and repairs almost anything in and around the home or business.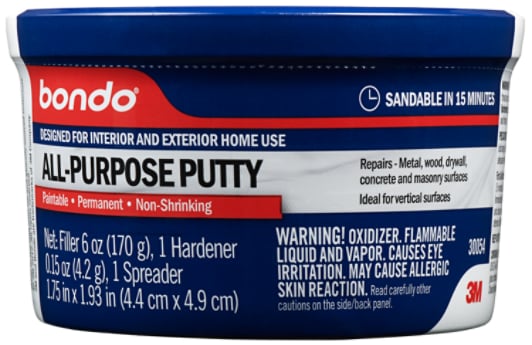 Unique thicker formula designed for wall, furniture and other home repairs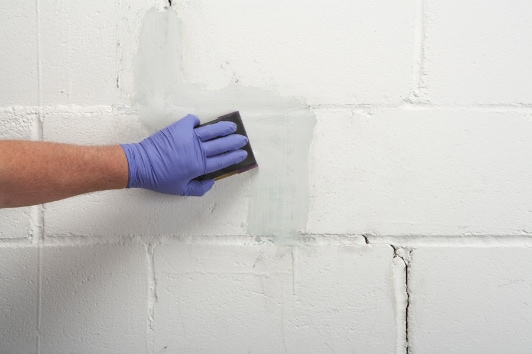 Can be used for drywall repair, concrete cracks, Metal gutters, doors, siding, brick and stone repair and furniture repair
Recommended Applications
Bondo® All-Purpose Putty can be used to fill, patch and repair a broad range of surfaces.
Cracks in concrete surfaces
Exterior wood
Metal gutters
Knotholes in wood
Loose tile
Wood shingles
Fencing
Window sills
Doors and door frames
Brick and stone
Drywall
Fast, Same Day Repairs
Why wait hours or days to complete a repair? With Bondo® All-Purpose Putty, you can complete professional looking repairs in less than 30 minutes instead of hours or days. The secret to a fast, permanent repair is in the two-part technology. By mixing the filler with the cream hardener (included with the filler), you can sand the putty in 15 minutes and paint it in only 45 minutes.
Strength to Restore and Rebuild
From the smallest to the largest of home improvement projects, Bondo® All-Purpose Putty can handle nearly any repair — fill minor holes or scratches, or rebuild entire missing pieces. It is very easy to mix using the included tube of cream hardener. Also included is a strong technological advantage: when the filler and hardener are mixed, a reaction occurs which allows the filler to chemically bond to the surface for a permanent repair. The two-part wood filler cures quickly, making it easy to spread while adhering it to the surface you are repairing. For more advanced repairs, Bondo® All-Purpose Putty can be applied in layers to rebuild damaged or missing pieces of the repair surface. Unlike slower drying water- or solvent-based fillers that cure by evaporation, Bondo® All-Purpose Putty chemically cross links to cure for a faster, more durable repair. As a result, Bondo® All-Purpose Putty is water resistant and will not shrink. This saves money, and allows you to make professional-looking repairs that last.
Learn how to apply Bondo® All-Purpose Putty.
(PDF, 175.28 Kb)
Bringing Science to the Art of Home Repair
A brand of 3M, Bondo is well known among collision repair professionals for our famous body filler. This all-purpose putty expands the capabilities into your home, and beyond. It is another way that 3M applies science to life, and helps you restore and maintain the beauty and value of your home or shop.
View more Bondo® products.
(PDF, 812.1 Kb)