This liquid compound and finishing material is designed to remove a P600 or P800 dual action sand scratch from gelcoat, with a wool pad. Designed to be used with an air or electric buffer (1500-2500 rpm) equipped with a 3M™ Compounding Buff Pads.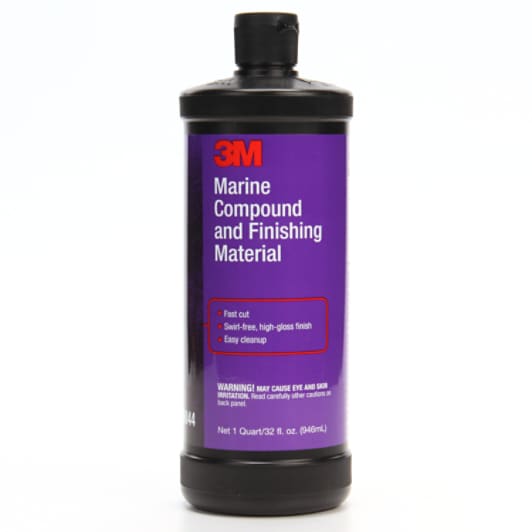 3M™ Marine Compound and Finishing Mterial, 06044
Does Double Duty for Marine Detailing
3M™ Marine Compound and Finishing Material restores the lustrous beauty of boats by eliminating oxidation, scratches, scuff marks and other surface blemishes. Our unique formulation combines a compound with finishing polishes, which does a double duty task of removing imperfections and polishing in one application. The simplicity and time savings of our "two-in-one" product with compound and polish makes it a favorite among boat detailing professionals.
Our compound and finishing material is highly rated for scratch removal. Use this product to remove P600-P800 dual action or P1000-P1200 sand scratches with a wool compounding pad. You may also use an air or electric buffer (1500-2500 Max. RPM) equipped with
Compound Buff Pads
(sold separately). It has a fast cut and delivers a swirl-free finish.
Directions for Use
Before using this product, please reference Product Label and/or Safety Data Sheet for Health and Safety Information:
Shake container before using.
Apply sufficient material to surface to work a 2 foot by 2 foot area. To minimize slinging, spread the compound over the surface with the compounding pad before starting the machine.
Start machine using light to medium pressure.
Reduce pressure as compound starts to dry, allowing material to polish surface.
Repeat, only if necessary, to remove any remaining sanding marks or swirls.
The combined benefits of a compound and polish in one product mean you spend more time relaxing on your boat out on the water and less time detailing it. Enjoyment is what having a boat is all about!
Learn more about marine gelcoat finishing with 3M products
(PDF, 2.3 Mb)