Use for shaping plastic filler, removing paint around damaged area and scratch refinement of bare metal. 3M's fastest cutting, longest lasting abrasive for saving labor costs and improving quality. Suggested airfile shoes 05446, or hand file 05444.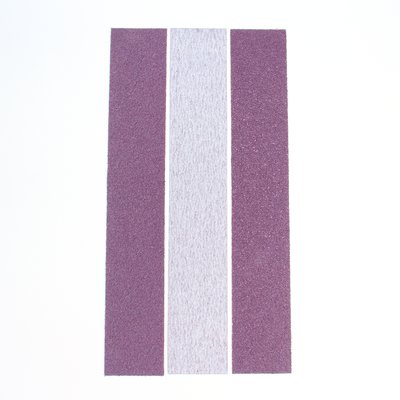 Fast-cutting, long-lasting
An Abrasive Sheet Roll That's Truly a Cut Above
With its combination of premium materials, our 3M™ Stikit™ Purple Abrasive Sheet Roll 740I is part of our Purple abrasive family: a high-performing auto body abrasive sheet roll that's ideal for jobs where reinforcements are needed. Its premium aluminum oxide abrasive and durable E-weight paper provide a consistently professional finish with lower labor and material costs. This aggressive sheet roll is ideal for shaping plastic filler, removing paint around damaged areas, scratch refinement and stripping paint to bare metal. It is suitable for use on a variety of collision repair substrates including clear coat, fiberglass, metal, paint, plastic and putty.
The coarse grade abrasive sheet roll sands faster to improve technician productivity and reduce labor costs while the consistent finish reduces rework.
Hard, Tough and Sharp
3M's fast cutting, long lasting abrasive saves labor costs and improves quality. Aluminum oxide is popular among collision repair professionals because of its fast cut-rate and long life. A natural mineral, it makes a tough, durable abrasive especially in combination with a thicker and heavier E-weight paper backing. Aluminum oxide is suitable for a wide variety of metalworking materials including ferrous alloys.
Heavier Backing for the Toughest Jobs
Our 3M™ Stikit™ Purple Abrasive Sheet Roll 740I is available in coarse grades typically used in the body repair area of the body shop. These jobs often require especially tough and durable abrasive product to get the job done. This abrasive sheet roll uses a heavier E-weight paper as the abrasive backing, adding durability and life to the product. It features Stikit™ attachment.
The Power of Purple
The 3M™ Stikit™ Purple Abrasive Sheet Roll 740I carries our Purple designation which signifies premium performance and durability. From its hard mineral abrasive to its E-weight paper backing, the sheet roll combines the strength, durability and long-lasting efficiency for improved throughput across your entire collision repair operation.
See More 3M™ Stikit™ Purple Abrasives
(PDF, 627.3 Kb)